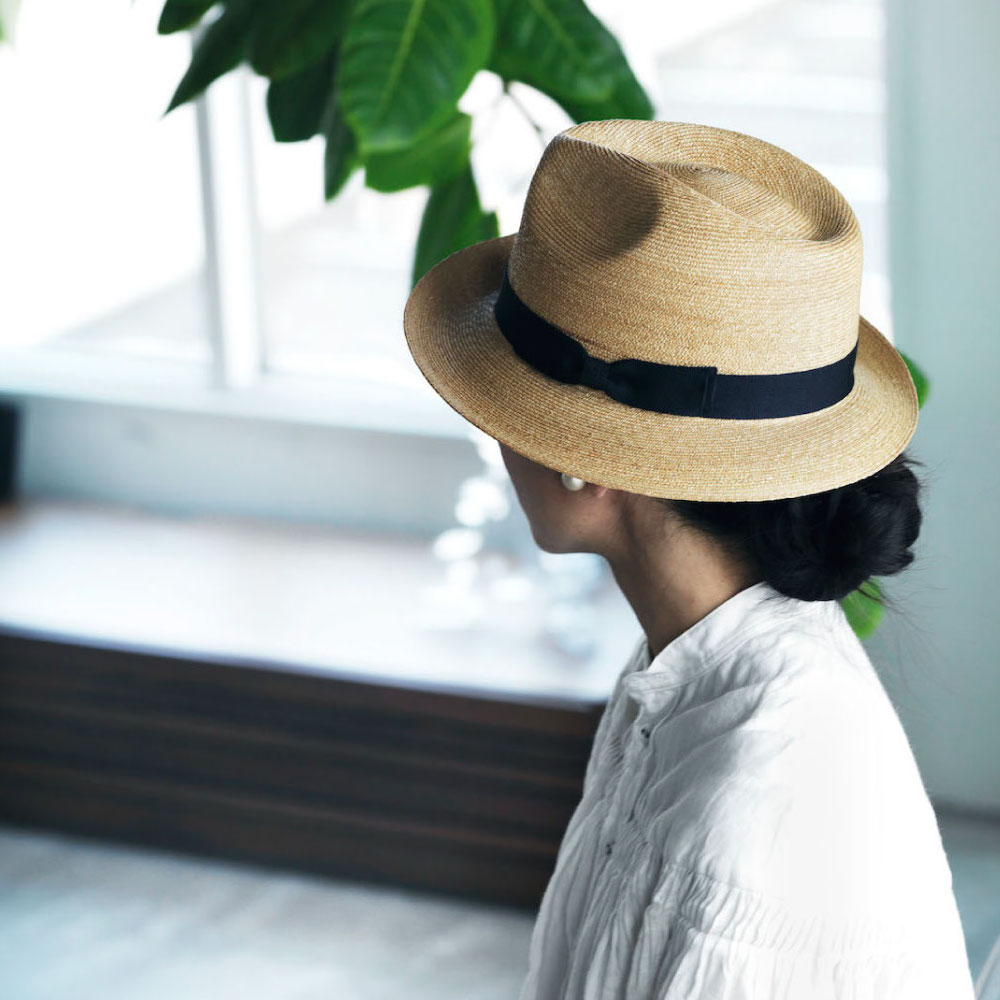 ベーシックなフォルムと確かな縫製技術、 石田製帽のデザインの根底にあるもの。
Basic form and genuine sewing techniques. The fundamentals of design at Ishida Seibou.
わたしたち石田製帽は、一貫してシンプルかつ美しいフォルムの帽子を追求している帽子メーカーです。ストローハットを中心としたものづくり、そのプレーンなラインと確かな品質は、業界の内外からたくさんの支持をいただいています。創業は古く、1897年(明治30年)に遡ります。創業の地は、現在も本社を構える岡山県笠岡市。瀬戸内海に面したこの温暖な土地で、長く農作業用麦わら帽子の製造に携わってきました。現在は四代目にあたる4人の兄弟妹が事業を引き継ぎ、緑に囲まれた静かな環境のなか、それぞれがデザインと縫製を手がけています。 いつの時代も、帽子がファッションの一部であることは言うまでもありません。帽子はどの国、どの文化においてもファッションに不可欠なアイテムです。しかし、わたしたち石田製帽は、帽子がファッションの主役とはとらえていません。帽子はあくまでも身につけている装いを引き立てる脇役。石田製帽のスタンダードなフォルムは、そんな認識の証です。 わたしたちが帽子に求めるデザインのもっとも大切なポイントは、けっして主張しすぎないこと。装いの雰囲気を壊さないこと。そして、デザインのさらに根底にあるのがかぶりやすさの追求です。帽子はファッションであると同時に実用品でもあります。かぶっているときの心地よさがあって、はじめて帽子本来の機能を発揮することができるとわたしたちは考えます。カラダの一部であるかのようにかぶりやすく、いま着ている服をさらに輝いて見せる。わたしたちはそんな帽子づくりを目指しています。
We at Ishida Seibou are hat manufacturers in pursuit of hat design with consistently simple and attractive forms. Our core business is in making straw hats with plain lines and of genuine quality that are esteemed inside and outside the industry. The founding of the company goes all the way back to 1897. The current headquarters is still on the same land the company was founded on in Kasaoka city in Okayama prefecture. This warm area faces the sea and aids in the production of straw hats that have long been used in agricultural labor. The company has been handed down to these four 4th generation siblings. The design and sewing also benefits from this peaceful environment surrounded by beautiful green scenery. It is common knowledge that the hat has been an essential part of fashion in every era of history. No matter the country or culture, a hat is an indispensable part of fashion. However, we at Ishida Seibou do not believe that hats should take the leading role in fashion. A hat is ultimately a supporting player in one's wardrobe. The standard form of Ishida Seibou is a testament to this understanding. The most important part about what we seek in hat design is to absolutely not take things to extremes. We avoid destroying the tone of an outfit. Finally and most importantly, we seek to create hats that are fundamentally easy to wear. Hats are fashion, but also hold a practical purpose. We believe a hat should feel good when you wear it and wearers should be able to fully utilize its function as a hat. Make sure to experience the feeling of holding one in your hand. We think you will feel the difference.